Podcast: Private Equity in Home Services, The Friendly Way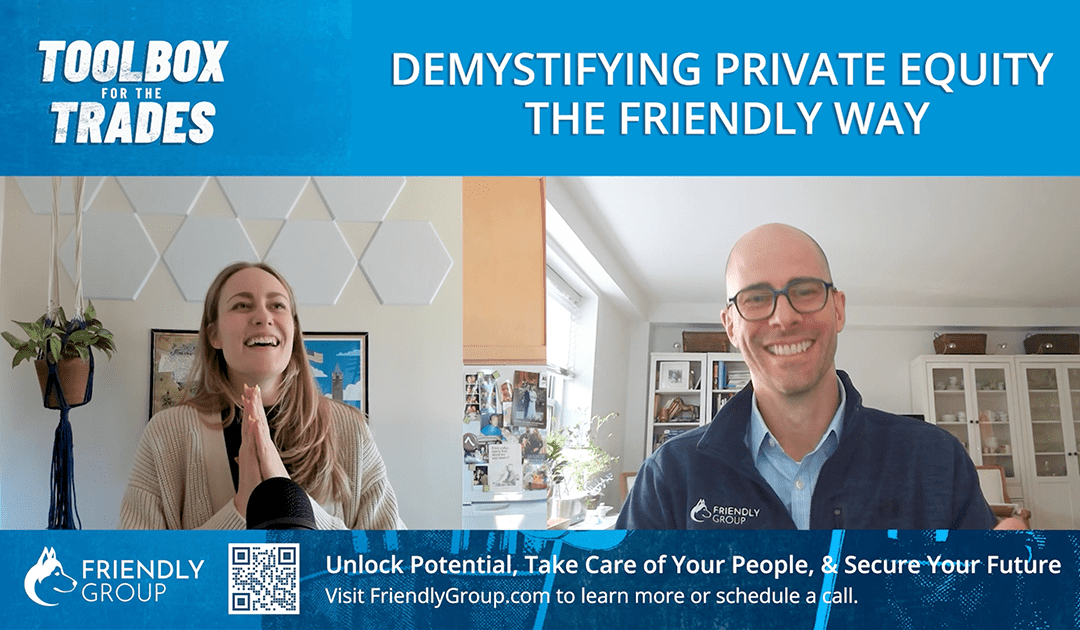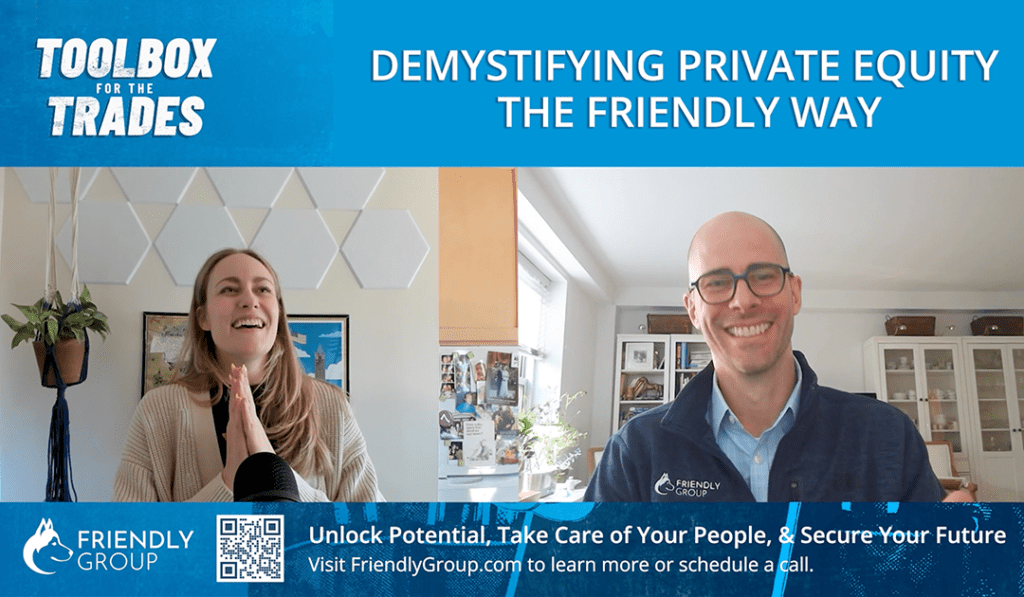 Demystifying Private Equity, The Friendly Way
Episode Overview
David Noseworthy, VP of Business Development for Friendly Group, joined ServiceTitan's Jackie Aubel on the "Toolbox for the Trades" podcast to discuss Private Equity in the Home Services Industry, including:
What differentiates Friendly Group from other private equity groups? (7:05)
Training, career paths, and setting up people for success. (13:02)
Mentorship and Power in the Pack. (18:27)
Owners who desire to see each other succeed. (23:05)
What qualities should a service company have if they aspire to be acquired by a PE group? (24:26)
Owning your area and your niche creates flexibility. (35:10)
How can bring value to the Friendly Group? (38:13)
Don't underestimate the value of relationships and community. (41:12)
Above All, People First
The expansion strategy at Friendly Group strives to include the best of both worlds in the home services industry: the power of private equity and the nurturing effects of employee training and development.
Friendly Group is always looking to add members to its growing team of companies. But not at the risk of ignoring employee needs, goals, and dreams.
"Our focus is on people. We believe in unlocking latent potential. And in doing that with each employee, you unlock the potential of the company."

David Noseworthy, VP of Business Development, Friendly Group
Noseworthy has a business background—engineering, operations, corporate development and equity research. It may be counterintuitive to some private equity groups trying to buy up trade companies, but Friendly Group believes success comes with an employee-driven focus.
"We felt confident that our approach would be successful in home services," Noseworthy says. Because the idea is that you focus on the employee, their development, taking care of them through benefits, just as a person, so that they can take care of the customer. And then ultimately, the customer will take care of the business."
There's Power in the Pack
The cornerstone of Friendly's company tagline, "There's power in the pack," begins with clear communication. We fully believe in being straightforward and genuine—even when that honest conversation hurts," Noseworthy says. "Throughout our company, we say what we mean and we mean what we say."
The company means it when we say training and mentorship are prevalent.
"It's one thing to set an expectation," Noseworthy says. "But we want people to make goals every time, so we train them and we guide them along the way—giving them all the mentorship they need."
That training is both internal and external. Friendly supplements subject matter training by its all-star management team with outside programs run by Nexstar. 
Qualities that Friendly Group Looks for in a Company
When looking to add companies to the power of their pack, Friendly Group looks for strong management teams that show an interest in creating a positive culture.
"Having a professionalized team creates value for that company," Noseworthy says. "It also creates value for somebody who wants to invest in your company, and join forces with you."
Ideally, Noseworthy says, potential partners are experiencing profit margins in the high teens.
"If you're hitting high teens, you're doing a lot of things right," he says. "I scratch my head when I see high 20s because that may not be sustainable. And there are a lot of great companies in single-digit profitability. We're happy to advise them on things they can do before joining a group like this."
Perhaps the biggest factor to consider when a company owner is looking at joining a private equity group: your growth plan.
"Do you feel that your company would do well to partner with private equity to be competitive 15 years from now?" Noseworthy asks. "Private Equity can give your company that boost. And if you're in that mindset of 'I want to scale; I want to build my team fast,' Friendly Group is the way to go."
There's Power in the Pack!